Created in 1966, the company Galex was one of the pioneers in cooling fluids for refrigeration and air conditioning. Today, Galex activity has been integrated in the Dehon Group and this french brand continues to offer a global service.
Thanks to a full range of refrigerant filled in Europe in a high quality packaging Friojet, the Famous Galex brand is an international reference for professionals in HVAC.
Galex launches the NEW FRIOJET DESIGN
Friojet offers the best combination of cooling properties, safety & environmental.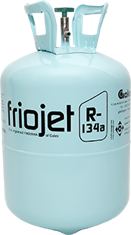 To reinforce Galex's brand image, we have redesigned our Friojet packaging, which is more modern and in line with the brand's value. This new design integrates a QR code that allows to verify the authenticity of the high quality product.
Our objective is to offer the best service to our clients. We market the Friojet products in compliance with the needs of today's stringent requirements.
| Products | Packaging | Charge | GWP |
| --- | --- | --- | --- |
| R-22 | Friojet disposable | 13.6 kg | 1810 |
| R-134a | Friojet disposable | 13.6 kg | 1430 |
| R-404A | Friojet disposable | 10.9 kg | 3922 |
| R-410A | Friojet disposable | 11.3 kg | 2088 |
| R-407C | Friojet disposable | 11.3 kg | 1774 |
Documentations